NCCAL eager to boost children's cultural, moral awareness – official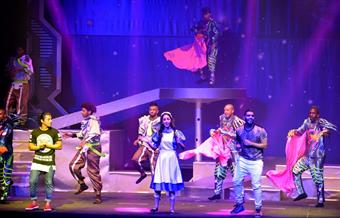 The 4th Arab Festival for Children's Theatre
KUWAIT, May 26 (KUNA) — The National Council for Culture, Art and Letters (NCCAL) is keen on enhancing children's cultural and moral values through a variety of events, especially theatrical, an NCCAL official has said.
NCCAL's assistant secretary-general for artistic affairs sector Bader Al-Duwaish made the statement at the opening of the 4th Arab Festival for Children's Theatre Thursday evening.
The ceremony honored festival's director veteran actor and author Abdullah Al-Habil, for his long and inspiring history in the field.
The annual festival is an artistic and cultural occasion that opens more room for further creativity, not only to culture children and enhance their knowledge, but to give them pleasure as well, Al-Duwaish said.
Al-Habil addressed the ceremony saying that the take-off towards children's theater was Iftah Ya Simsim (Open Sesame) in the late 1970s, in which he played the role of Noaman, then several other works followed.
Minister of Information, and Minister of State for Youth Affairs, Sheikh Salman Sabah Al-Salem Al-Humoud Al-Sabah, also NCCAL Chairman, reiterated to KUNA on Monday Kuwait's belief in the children's intellectual education, to bolster their sense of belonging, and values of toleration, giving and love. (end) akw.msa.
| | | |
| --- | --- | --- |
| Minister of Information, and Minister of State for Youth Affairs, Sheikh Salman Sabah Al-Salem Al-Humoud Al-Sabah at the opening of the 4th Arab Festival for Children's Theatre | Minister of Information, and Minister of State for Youth Affairs, Sheikh Salman Sabah Al-Salem Al-Humoud Al-Sabah at the opening of the 4th Arab Festival for Children's Theatre | Minister of Information, and Minister of State for Youth Affairs, Sheikh Salman Sabah Al-Salem Al-Humoud Al-Sabah at the opening of the 4th Arab Festival for Children's Theatre |
| The 4th Arab Festival for Children's Theatre | | |